Warehouse System Concepting and Optimization
Warehouse System Concepting and Optimization
​Warehouse automation system concepting is the high level design and implementation of the results from an operational review or audit. It defines what the business is trying to accomplish and merges that with the capabilities needed from a WMS/WES/WCS and automation to define a roadmap for the business. Warehouse automation system concepting and optimization can be done for both new construction, new design, new build, and also existing warehouses.
The process usually starts with the manufacturer's or the distributor's goals and objectives. An operational audit is often a precursor to review what can be improved in the existing facilities. System concepting and optimization, on the other hand, are about identifying the current business baseline today, identifying where it needs to be, and identifying the shortfalls. Once this gap analysis is created, the next step is how best to fill it.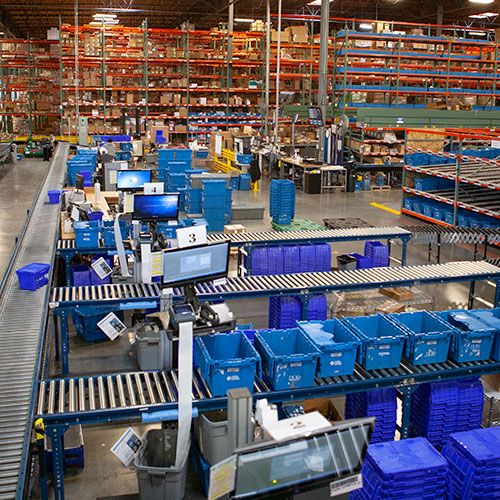 Achieve Goals and Objectives
Balance Performance within Financial Constraints
Advanced WMS, WES and WCS Suite
A Complete Warehouse System Concepting Solution
​Gaps can be analyzed by their industry and operational modes. Intek and Minerva have teams of people led by individuals with 20 to 30 years of experience in manufacturing and distribution. They can determine what forms of automation work by certain industries yielding a basic set of items to review and evaluate. Combining this experience with business goals can begin to generate recommendations. By adding concept drawings for the automation and combining them with an operational audit and an ROI analysis, a comprehensive financial review can be created.
Warehouse system concepting often includes a level of ROI analysis because these two items serve to counterbalance each other. It's relatively easy to design a system concept that meets all the business needs, but in order to be truly effective, the ROI must justify it. Only by balancing warehouse system concepting with ROI, and then including the capital restrictions, can an optimum solution be  identified and concepted for the business.
Warehouse operational and system change mapping helps identify the process modifications that are required for improvement. It helps in providing a future state description for the operation and the system design. For instance, if the business is moving to automation, processes and equipment updates can easily be defined with a process map. Of course, some manufacturers and distributors know what is required and can evaluate the results on their own; others need assistance.
Intek and Minerva are hardware agnostic and offer software solutions to support virtually any automation hardware that is required. We are not focused on selling the hardware; we are focused on solving the problem. This creates a level of objectivity that a hardware manufacturer doesn't always have, as they tend to fit the business problem to the equipment.
Download our latest Whitepaper