Warehouse Librarian
Warehouse Librarian is a highly modular and configurable warehouse management system (WMS) that integrates warehouse control system (WCS) and warehouse execution system (WES) components to provide a complete suite of warehouse software. It has a rich set of standard features to support a broad scope of operational requirements. This allows you to implement Warehouse Librarian "out of the box", resulting in fast implementations and time to value. Over 90% of Warehouse Librarian implementations are standard product, and all Warehouse Librarian users benefit from regular product improvements and enhancements.
Warehouse Librarian, built on Microsoft technologies, Supply Chain Execution features:
Receiving
Receipt Put-Away
Order Management
Wave Management
Replenishment
Order Picking
Cycle Counting
Consolidation
3PL Support
Labor Management
Picking Automation Interfaces – direct control of carousels, conveyors, ASRS, sortation, light picking, and voice picking hardware
Storage Media Configuration
Business System Interface
Manufacturing Support
Quality Control 
Truck Loading
Labor Management/Task Interleaving
Shipping/Manifesting
Productivity/Labor Tracking
Greater Return on Investment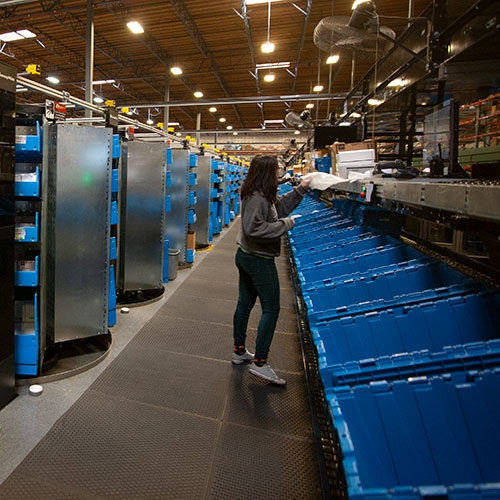 Reduce WCS complexity with a Single Platform Solution
Enjoy WCS Implementation Expertise that Integrates with ERP
Advanced WMS, WES and WCS Suite
Proven Expertise with Automation Technology
A Package Tailored to Solve Your Challenges
A True Warehouse Solution
About Warehouse Librarian
Warehouse Librarian is affordable for mid-tier manufacturers and distribution centers, while scaling up to high-volume distribution centers. This is possible because of the product's modular, client/server architecture and the scalability it affords. Regardless of the size of the facility, Warehouse Librarian pays for itself in productivity gains, reduced cycle times, improved customer service, greater accuracy, and better space utilization – all of which reduce your cost of distribution.
Material Handling Integration
We are of the view that some of the most important efficiency and accuracy gains made in the distribution center are a result of fully integrated distribution software with material handling systems.
As a result, we have built an integration architecture that we believe has the most complete control system drivers in the industry. Others might claim to integrate with automated warehouse materials handling systems, but be careful. We know there is a great deal of value difference between a supplier integrating by using batch data files from one vendor and reporting to another vendor – and the interactive real-time communication occurring continuously during process and workflow delivered by Warehouse Librarian.
All companies might not perceive it critical to immediately have automation control capability in their supply chain execution system. Many of our clients felt that way when they got started and we delivered successful solutions.
At the same time, we can introduce you to many who were later able to stay in their distribution center years longer than they had planned without major pain or having multiple vendors point fingers at each other.
Intek has invested much of its software tooling effort in the last two decades provisioning tools that simplify the communication between its software applications and automation devices within the SCE market space. This means that if we need to target a new piece of automation equipment in the warehouse we have a design platform that accommodates it easily. Intek's unique capabilities in this arena significantly reduce roll out complications and implementation time.
For warehouses that implement material handling automation using carousels, conveyor sortation, pick-to-belt, pick-by-light systems, or voice directed systems, Warehouse Librarian integrates this automation equipment into a single, highly efficient warehouse and material management and control system by directly controlling the material handling hardware. Many companies in the supply chain execution space specialize in either management software or control software. With Warehouse Librarian you get the best of both worlds – and only one vendor to get it right.
Warehouse Librarian Benefits:
Some of the immediate and tangible benefits our clients experience after implementing Warehouse Librarian include:
Advanced Slot Management™
At the core of Warehouse Librarian is Advanced Slot Management, which tracks cube and velocity (picking frequency) attributes for every item and storage location in the warehouse. Advanced Slot Management, coupled with multiple location tracking optimizes space and reduces operator travel time.
Unparalleled RF Response Time
Intek has extended the benefits of the client / server architecture to the RF terminal providing sub-second response time even in the highest volume distribution centers. This increases productivity and accuracy, providing operators with a degree of control not commonly found in the warehouse.
Clean Architecture Built on Microsoft technologies.
Intek software is built on a standard Windows architecture in stark contrast to some of the largest competitors in the business. As such, Warehouse Librarian is free from legacy code/system constraints and the very crippling restrictions that these overheads impose. In contrast, legacy systems struggle to meet the pace of the ever-changing demands of warehouse environments. What should be very simple add-ons (such as a labeling machine for retail compliance or responding to much higher SKU volumes) requires third party assistance delivered at huge costs to you. With Intek, flexibility and scalability comes out of the box.
Areas of Immediate Measurable Impact:
Extreme Accuracy – Warehouse Librarian customers achieve 99.5% or better order accuracy.  High accuracy reduces returns, brings customers back and reduces/eliminates order check-in processes
Increased Productivity – Warehouse Librarian places fast-moving products in the most accessible locations to increase productivity and throughput in warehouses and distribution centers. Order selectors are directed through the most efficient pick path including the ability to group and accurately pick multiple orders in a single batch or wave increasing pick rates even more
Improved Space Utilization – Warehouse Librarian's Advanced Slot Management functionality enables customers to improve warehouse storage capacity by up to 35% without additional storage media
Real-Time Verification – Warehouse Librarian verifies each transaction in real time to improve inventory and shipment accuracy, resulting in fewer inventory shortages and bolstering customer service
Faster Cycle Times – Warehouse Librarian allows multiple orders and back orders to be automatically combined and processed as a single order during picking to reduce consolidation, packing, and shipping costs
Lower Shipping Costs – Warehouse Librarian allows multiple orders and back orders to be automatically combined and processed as a single order during picking to reduce consolidation, packing, and shipping costs
Ease of Use/Training – Warehouse Librarian is easy to use so new employees and temporary/seasonal workers get up to speed faster than with other SCE products due to intelligent system-directed picking, put-away and replenishment features
Lower Labor Costs – Warehouse Librarian includes extensive productivity and labor reporting capabilities out of the box to enable supervisors to set standards and track employee performance against those standard
Superior Price/Performance Ratio – Warehouse Librarian offer capabilities not commonly available in competitively priced solutions, enabling customers to achieve cost justification and high ROI on their SCE investment.
Download our latest Whitepaper