Warehouse Execution Software| WES
Warehouse Execution System (WES)
A warehouse execution system (WES) is a software package that augments a WMS and effectively fills the gaps for what older WMS, bolt-on ERP WMS system, or legacy WMS offer. A WMS that also has WCS capabilities for interfacing, managing, and directing automation within the facility has a WES. The automation can be quite varied from conveyors, to forms of vertical or horizontal carousels, light directed operations, voice picking technology, etc. The existing WMS doesn't support automation and you need a software solution to support that and interface with WMS, or better yet you have a WMS that has all those capabilities. A WES can be a system unto itself, but it could be an integrated system with a comprehensive WMS.
A warehouse execution system works the way a WCS solution should work, where oftentimes a WCS is grown out of the lower level PLC controls and becomes highly customized, a WES hits the mark on separating actual controls from the intelligence or brains level of decision with the automation. A WES creates the capabilities within the warehouse software to interface and integrate to the automation without taking over the underlying machine controls.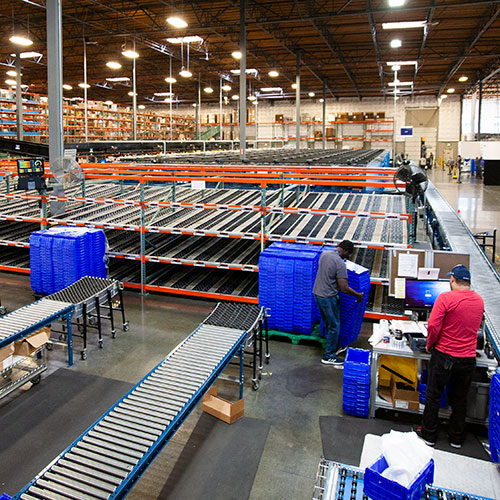 Advanced WMS, WES and WCS Suite
Proven Expertise with Automation Technology
A Package Tailored to Solve Your Challenges
A True Warehouse Solution
This is important when a business wants to automate in a distribution or manufacturing environment and the legacy WMS doesn't support it. Or, a business needs a package that provides WMS capabilities while at the same time enabling advanced technology such as voice picking, pick by light, put by light, or carousel automation, or any form of goods to person automation for picking, or any number of types of automation such as conveyor sortation system.
As a business scales its automation with warehouse software, it can end up with an ERP, a bolt-on WMS, a hugely exploded scope of a control systems for its WCS capabilities, and then another software package. It can easily get too far down the path with the wrong software packages for where they are going and can end up with multiple solutions in the same facility to meet their needs. It's ideal if a business chooses the right WMS, WES, WCS solution up front so it implements one software package.
It's important to review whether you WES is highly customized and what the cost of ownership is, and whether it's easily upgradeable. Does it control just one form of automation or multiple forms of automation that might be applicable to my operation? It is also important to review how many integration points are required to deliver what is currently needed and in the future.
It is ideal to minimize the number of software packages in an operation. A single package upgraded solution can generate labor savings and reduce the cost of ownership by eliminating one or more software packages in the operation. An upgraded WMS can often deliver a better ROI to your bottom line in labor savings, accuracy improvements, and cost of ownership for automation software.
It is important to evaluate WES software systems, from both a software standpoint, implementation standpoint, and organization standpoint. WES requirements are going to vary based on the industry and operation. Whether it is e-commerce, manufacturing, wholesale distribution, retail distribution, it's good to partner with somebody that has the functionality, skillsets and integration to automation experience that suits those industries and those operational configurations. If a WMS software supplier does not have that, then a business may be limited on its choices of automation that can be deployed, limiting the ability to optimize the facility. Choosing a WES package that is functional with the very wide variety of technology solutions available with an implementation team having a skillset with the business and its challenges are critical success factors.