Voice Picking
Voice picking is a form of hands-free picking. Voice picking is now been around for a very long time, it's a very stable technology, and it has some great applications. The best application for it is where the operator truly needs a hands-free environment, and they're picking in an environment where there's a fair amount of walking distance from location to location. You have to be cautious about picking in very dense areas, while at the same time increasing your verification steps when you're picking, because you have to talk into it.
A very good environment for voice picking is full case picking, full bag picking to pallet. It's in an operation where an operator needs to completely have their hands free to pick. They have a fair amount of travel distance between locations, so that when they are picking and they can be dialoguing. With voice picking, you are told something, essentially listen to it. Then dialogue with the voice picking application to confirm, ask questions, next steps, and confirm what you've picked or haven't picked, etc.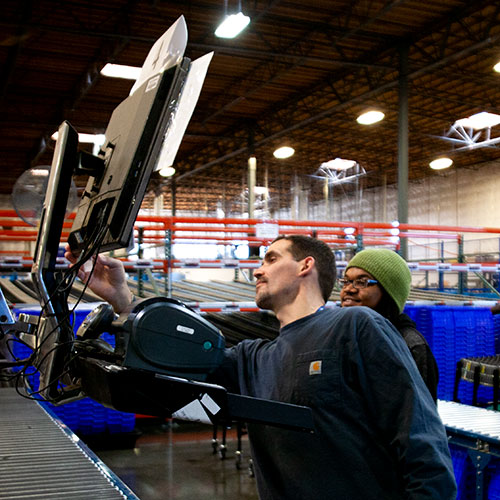 Location Bin Map Layout for Database Move "from/to" Labels
Stock Item Profile (velocity, cube, etc.)
Common Overstock Cube Sizes
Distribution of Slot Sizes Item Pick Face Size
Sometimes in very dense picking areas where an operator can pick with one hand and still use a mobile device, using a mobile device and scanning it is much faster.
For small items, one may be better off with vertical lift modules, vertical carousels, horizontal carousels, or voice picking. Those are different forms of hands-free like voice picking, but the operator is either light directed or they don't always need both hands free to pick the item.
Voice Picking Accuracy
The accuracy of voice picking is consistent with the accuracy of a mobile device scanning. The difference is depending how you're confirming it and the operation. Voice picking can ensure accuracy faster than picking up a mobile device and scanning a location. This is pronounced when picking a full case or full bags, you don't have to go back or pull your mobile device out of your holster or what have you to make your confirmation. So it's a combination of how you ensure accuracy while still being productive at the same time.
Another example is if an operator has to look at a piece of paper, mark something on the piece of paper, set the paper down, that's a manual confirmation. So, voice picking or a mobile device or other hands-free application is more accurate than paper, because there is a confirmation step that the operator has picked the right product from the right location and associated that with the right order.
Voice Picking Optimization
Voice picking has workflows for put-away, cycle counting, and even receiving. There's a number of workflows that can be optimized. A review of the use of voice with automation is important as it doesn't automate as well as other technologies depending on your environment. It automates picking extremely well in many, if not most environments but in some it doesn't.
So the biggest advantage is what's the operator doing for any given task in the warehouse, and what level of hands-free do they need to perform that task, and does the dialogue that they have with the voice system negatively offset the advantages. If you are dialoguing with the voice system for confirmations and the workflows are too complex, picking can be slower. It is important to strike the right balance of dialoguing to achieve accuracy while maintaining productivity improvement. The software to control the voice hardware will be needed and a WES, WCS element is required as part of WMS package to support it.