Voice Picking
Voice picking is a form of hands-free picking. Voice picking has been in use for a very long time, is very stable technology, and can be quite effective. The best application for it is where the operator truly needs to be hands-free they're picking in an environment where there's a fair amount of walking distance from location to location. Voice picking needs to be used cautiously in very dense areas, and voice directed verification steps need be used judiciously—because talking into the system is not always as fast as a bar code scan with a mobile device or a button push in a light directed and/or carousel light directed operation.
Good environments for voice picking are full case picking, full bag picking to pallet, etc. In these situations, the operators need to have their hands completely free to pick and drive fork trucks or pallet jacks. Moreover, they have a fair amount of travel distance between locations, so that when they are picking, they can be dialoguing with the voice system. With voice picking, the operator listens to voice commands for direction and then dialogues with the voice picking application to confirm location, quantity, etc. and to ask questions about next steps or exceptions. Voice picking can also be used with virtually all forms of operations that a mobile device can be used in a warehouse or distribution center. However, some applications are better than others.
For instance, in very dense picking areas where an operator can pick with one hand and still use a mobile device, using a mobile device and scanning can be much faster or using a voice system integrated with scanning can provide an even more effective solution. Likewise, for small items, it may be optimal to opt for vertical lift modules, vertical carousels, or horizontal carousels, as opposed to voice picking. With these hands-free solutions, the operator can be light directed or they don't always need both hands free to pick.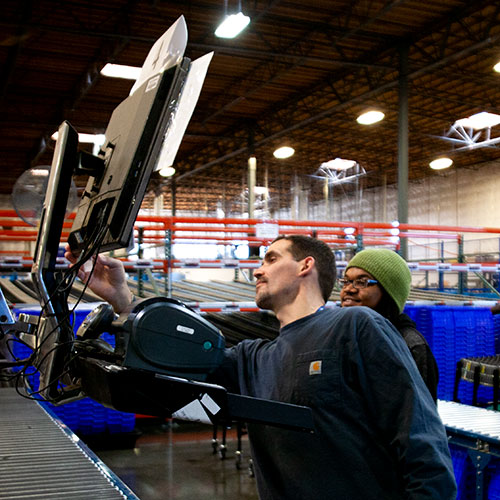 Location Bin Map Layout for Database Move "from/to" Labels
Stock Item Profile (velocity, cube, etc.)
Common Overstock Cube Sizes
Distribution of Slot Sizes Item Pick Face Size
Voice Picking Accuracy
Although the accuracy of voice picking is consistent with the accuracy of mobile device scanning, there can be differences, depending on pick confirmation style and operation. For example, voice picking can ensure accuracy faster than mobile device scanning in applications such as picking a full case or full bags, when it is inconvenient or even hazardous for an operator to pull a mobile device out of a holster to make a confirmation. Voice picking can be integrated with scanning, but as always, the goal must be to find the solution that can best ensure accuracy while also enhancing productivity.
Voice Picking Optimization 
Voice operations are typically picking, however voice supports workflows for put-away, cycle counting, and even receiving. All of these can be automated and optimized, providing a voice system can be integrated with the automation and other technologies in your environment. In addition, it's important to understand the extent to which operators need to be hands-free to perform their tasks and whether or not the dialogue they will have with the voice system could negatively offset the advantages. If dialoguing with the voice system for confirmations and workflows is too complex, picking times can increase. That's why it is essential to review all of the parameters and strike the right balance of dialoguing to achieve accuracy while maintaining productivity improvement. In addition, the software to control the voice hardware and a WES/WCS element will be required as part of WMS package to support it.
​Download our latest Whitepaper