Intek develops Supply Chain Execution (SCE) software that helps mid-tier to advanced manufacturers and distribution companies better manage their warehouses, inventory levels and supply chain. Our solution uniquely combines Warehouse Management Systems (WMS) and Warehouse Control Systems (WCS) into one integrated and superior solution to maximize the efficiency of your operation.
Running on the Windows platform, we deliver you significant time to value and TCO benefits compared to our competition. With Intek, flexibility comes out of the box.
But don't take our word for it! Listen to our Customers!
Listen to our customers, like Petco, one of two companies with commanding market share of the North American pet supply market using our solution – a solution they have grown with and enhanced over the past 16 years – having grown more than 300% during this time. On a smaller scale, mid-tier customers such as Animal Supply and Bargreen Ellingson have each more than tripled their businesses in just a few years while seamlessly scaling with our software.
In total, we believe we have created the better mousetrap in the SCE market. Why do we say this?
We have created a complete, standard product in a market otherwise filled with solutions requiring tailored, long implementation cycles and third party add-ons.
Our software solution, Warehouse Librarian, includes 45 seamlessly integrated application modules that easily mold with the way you do business and with your enterprise platforms.
We provide a technology architecture designed to quickly integrate with the broad array of material handling equipment we find in customer environments.
Our highly modular software architecture allows us to serve the needs of mid-tier clients with currently modest needs, yet scale up to highly advanced implementations with features normally found in only the most expensive, host-based products.
We understand the pressures you and your business face from SKU proliferation, to retail compliance, to collapsing order profiles. These pressures place a high premium on inventory and order accuracy, customer satisfaction, operational labor, and space utilization. We have over 20 years of expertise in assisting our customers to meet these market dynamics head on and turn them into market opportunities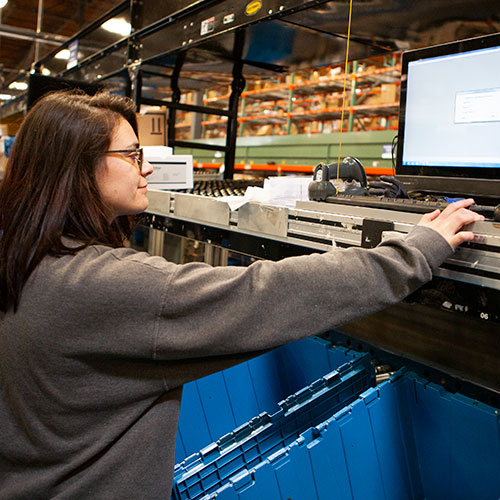 What are the benefits that our customers gain? They:
Achieve and maintain extremely high inventory and fulfillment accuracy (99.5%+)
Utilize warehouse space far more efficiently
Lower inventory levels via increased inventory turns and having far more accurate inventory management (requiring less safety stock)
Substantially lower warehouse labor costs (oftentimes 25% to 50%)
Flexibly expand the number of product lines
Quickly deploy new warehouses/distribution centers
Ensure accurate and timely delivery of product to the customer
Accurately measure operational performance of the distribution center in real-time
The result: We can proudly state that we have never had an implementation failure with our clients. With such low business risk, can we help you meet your business objectives?
Who are the people that bring you this solution? At Intek, our executives have over a decade of experience working together, with a collective industry experience of over a century. We're very proud of the quality of our engineering team, as well as the dedication of our support and implementation services team.
Ready to learn more!
Contact us today to learn more about our warehouse software solutions.